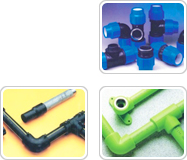 | | |
| --- | --- |
| | Supplying the international standard pipe and fitting from premium material, as well as importing state-of-the-art piping technology from advanced countries to provide the best life quality to public are an invariable principle of Gin Yuan Groups. Having grown for more than 30 years, the group is company is a longest established, most honest and eligible pipe manufacturer to fill the requirements for international standard 。 |
GECO SYSTEM
is the biggest pipe manufacturer and enterprise in Italy which produces HDPE and PP pipe fittings accredited by ISO and various quality certificates from Europe and USA. It is mainly supplying HDPE and PP pipe fittings to the foregoing areas.
HDPE is generally acknowledged as pipe material harmless to environment and is a
currently designated pipe material in advanced countries in succession. Adhering to the
business principle of Gin Yuan Groups and highly regarding environmentalism, Yuan
Soong offers the most beneficial, complete, safe and highest quality HDPE
pipe and fittings.